2010: Increasingly Dangerous Times for America
Tweet
Apart from

apathy

...'Nothing in the world is more dangerous than sincere ignorance and conscientious stupidity.' (Dr. Martin Luther King)
27
August 2010
Update
Since the July 27 update unprecedented events below (

links

) are currently unfolding
:
Pakistan
U.S. doubles helicopters for Pakistan flood relief
"The scale and scope of this natural disaster is astronomical," he told a news conference in Washington on his return from Pakistan.
The floods have affected more than 20 million people and Shah said about 23 percent of the country's cropland -- or 4.3 million acres -- was under water.
WASHINGTON, Aug 27 (Reuters)
27 July 2010
Update
Oil spewing from well near Louisian
a marsh
Boom placed around 20-foot-high plume; tugboat hit well, officials say
The wellhead wa
s earlier said to be owned by the State of Louisiana.. sources
have backed off to say 'The owner of the wellhead in question has not been identified.'


NBC, msnbc.com and news services
July 18,2010
Racism Issue


Views and perspectives on the Black Panther matter are sharply divided.
The New Black Panther Party Is the New ACORN Newsweek July 14, 2010
Tea Party Leader: NAACP Is Playing the Race Card Tea Party Objects to NAACP's 'Selective Racisim' July 18, 2010
8:44 AM
CBS: Face The Nation July 18, 2010 Video


This is a specific strategy to polarize Americans and
incite division and possible violence. Do not participate.


Better to be hyper-vigilant than blindsided! 19 March 2010
There is increasin
g potential in the weeks to come before the November 2010 elec
tions for efforts by the 'conservative' GOP opposition to create distractions and chaos to a point of violence to compel control over the American people.
Already, National Guard personnel and other agencies are being deployed throughou
t regions of the United States under the cloak of immigration and emergency management in relation to the Gulf Oil Spill.
Gulf Oil Spill
Though widely known and accepted that the BP oil gusher is now stopped...
Gulf oil spill cap is holding, says
BP BP's cautious, cryptic statement says firm will 'take this day by day', but
Louisianans see light at the end of a long tunnel guardian

.co.uk, Sunday 18 July 2010 18.45 BST


...environmental and ecolog
ical disaster still looms in the Gulf Coast region of the United States.
Gulf oil spill: Attempt to lift blowout preventer to start next week


August 27, 2010
Engineers in the Gulf of Mexico have abandoned efforts to fish out pieces of drill pipe stuck in the damaged Macondo well and early next week will begin trying to remove the blowout preventer -- a crucial step in finally sealing the well.
There remains no guarantees that the current stoppage is permanent or not vulnerable to disruption by natu
ral or other unforeseen conditions.
Americans should be hyper vigilant and use common sense toward news, information or government activity associated with the Gulf Oil Spill.
Anderson Cooper 360 o
n the Gulf Oil Spill


For anyone who has not seen this report from CNN's Anderson Cooper by all means, it is worthy to help peo
ple understand the BP Gulf Oil Spill is a darker cloud for Americans in many ways, than perhaps many realize.
Dangerous Times In a Pivotal Political Year


While America was beginning to gear up for a hotly contested political mid term Senate and House of Representatives election year [16 February 2010] The Endrun Project posted concerns of dangers facing America beyond mere politics.
'

'The 2010 elections are as critical to America's future as any election in World History …however, whoever controls Washington after the elections will do little toward 'tak
ing the country back' (as it has been) if America remains un-united and without direction. Factions within the United States have demonstrated th
at they will stop at nothing to further their agenda(s) even against the will and best interests of the people.'
Taking the Nation Back


The first Taking the Nation Back post written back in 12 February 2010 essentially focused on concerns of a nation divided:
'Democrats versus Republican, left wing, right wing, progressive, conservative speaking out in the media and newspapers is not going to change direction of our country. It is going take all citizen of our country to wake up and realize they hold the key to changing our country.'




The Taking The Nation Back July 2010 update

emphasizes increasing concerns about serious issues facing America prior the November 2010 elections.
'Reality Bey
ond Politics As Usual ...A Trojan Horse Inside the Gates of America'
'For Decade
s, a systematic movement to bring down the United States and it's Constitution has been underway.'
America is in the
midst of dangerously critical times ...more so in the unfolding domestic and global events ...than most people seem to grasp.
The Gulf
'Oil Spill'

, the global economy, Middle East relating to Israel, Iran and the region, expansion of Islamic Jihad, America's borders, national security and other strategic issues ...foreign and domestic ...call for
no less than leadership prepared for preserving the very existence
and sustainability of The United States ...NOT RHETORIC and popular catch phrases or placebo 'go with th
e flow' policy.
The Gulf Oil Spill alone has catastrophic environmental and economic potential for America that scientists and analysts haven't even begun to get their minds around.
Gulf state emerg
ency preparedness agencies confirm mass evacuation plans Wayne Madsen Report – June 28, 2010
A well-placed source in California told WMR that the California Emergency Management Agency (CEMA) has been briefed
by its counterpart agencies in the Gulf coast states that there are plans to con
duct a mass evacuation of mi
llions of Gulf coast residents
due to the catastrophic environmental and public health effects of the BP oil disaster.
The Endrun Project generally will not quote sources that are not thoroughly documented. There are increasing reports as evidenced in the Anderson Cooper 360 Report of much more being withheld from the general public with new insights and details coming out daily.


However, as more unravels each day on the oil spill, dark clouds continue to build on the horizon that will directly affect The United States and US National Security.
Iran Israel and the Middle East


The matter of Israel and the Middle East Peace Process concerning the Palestinians in Gaza and the blo
ckade despite ongoing peace talks and verbal remarks from

Prime Minis
ter Netanyahu

is extremely fragile.


Strategists and analysts from several view points see a real potential for Israel to be involved in a military strike on Iran's nuclear facilities ...the reality of which could be from another country in the region who is equally concerned about Iran's nuclear ambitions ...but as an enemy of Israel, stage an event with compelling evidence against Israel for a strike.


Word in the Middle Eastern region is that other nations such as UAE would support an Israeli military strike on Iran with others offering Israel airspace for such a mission.
'You heard the Americans -- I'm sorry, You heard the ambassador of the
United Arab Emirates at the Aspen Ideas Festival suggest for the first time that his country
would not be at all adverse to seeing the Israelis take military action against
Iranian nuclear sites
.
'
David Sanger: to Charlie Rose Interview July 13, 2010 [Transcript ]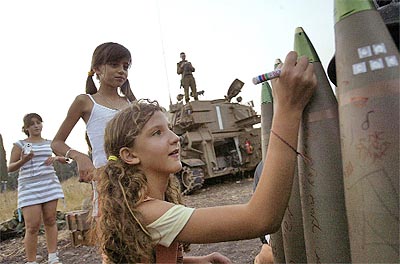 Historically, whe
n Israel commits to steps toward peace, insurgents from
Hamas, Hezbollah, or other enemies will step up terrorism against Israel
to prompt retaliatory action in the name of Israeli National Security
'Rumblings rise between Hezbollah, Israel Rumblings rise
between
Hezbollah [and] Israel

Jul 14, 2010
RAMALLAH via Asia Times
Israel 2010-2012
'Like nothing before in the history of Humanity ...current events unfolding in Israel and the Middle East can change the world as we know it in the 'twinkling of an eye'.
As pressures on Israel increase, and allies begin to fall away as indicated by recent signals (even from The Unit
ed States) despite strong commitments and support prior to the current administration ... in the interests of national security and safety of its people, Israel could be compelled to take preemptive action against one or more of its greater threats in the region.
Endrun Project 23 May 2010
Economy


There are multiple flash points on the global economic scene which can add to America's economic woes.
Witness The R
ecent Gold Market Takedowns
'
The Illuminist bankers believe this time they are capable of shutting down the entire system and replacing it with S.D.R.s, so that they can control everything financial worldwide.'
July 7, 2010 International Forecaster Weekly
'The challenge is to get sheep to quit thinking and acting like sheep and start thinking and acting like foxes ...and time is running out.'
[2010: Education Reform Part 2
]
30 July 2010
Is this you?
God gave us common sense and a conscientious for a reason if we choose not to use them we pay the consequences as we are NOW. If American voters put their faith in media and pundits rather than common sense we will be further divided and finished before the November 2012 elections.

There is a price to pay for this...
But you are not called to be foolish. Stay vigilant ...the picture will become even clearer as events of 2012 continue to unfold
.
Watch out that no one deceives you!
Matthew 24
Related articles
Suggested reading:
The theory of 'manageable chaos' put into practice 01.03.2011
Sergei Shashkov, political scientist
See also;
New Eugenics and the Rise of the Global Scientific Dictatorship
The Technological Revolution and the Future of Freedom, Part 3
You Will Know Them By Their Fruit by
@endrunlv
The 'Endrun' image represents the disparity being felt by so many people ... especially the children who are witnessing events in America and the international community in which they have no voice or control of decisions that are destroying prospects and hope for a secure and prosperous future.